10 Facebook Post Ideas to Build Brand Awareness and Engagement
Looking for Social Media Marketing strategies? Here are 10 Facebook post ideas to build brand awareness and engagement!  You see, if you're looking to boost your marketing and sales, focusing only on offline marketing, ads, and billboards is now mostly inefficient, and out of date. Maybe 30 years ago, when the internet wasn't densely populated, this would've worked. However, we're living in a digital age. Smartphones are everywhere, and almost everyone has access to the internet and social media!
With this in mind, as a business, you should focus heavily on the internet, where millions, if not billions of people, can see and engage with your message. A platform where billions of people interact with each other and view all sorts of content is one that you want to look for to promote a business. And in the social media world, this platform is Facebook.
Facebook is a densely populated social media platform making it perfect if you want to reach as many people as you wish. Creating a page for your business is also easy, and promoting your post and page is relatively cheap. However, what do you want to post to make sure that your audience interacts with you?
If you worry about interaction and visibility, we've got you covered!
10 Facebook Post Ideas to Build Brand Awareness and Engagement
Here are ways that you can boost engagement and resonate with your audience.
Behind the scenes content
Sharing behind the scene images of your business shows your audience a different side of the company. Pictures of what the employees are up to. Future content that they're going to release and even images of the production of items can give a considerable boost in interaction.
This post by Typeform is a great example!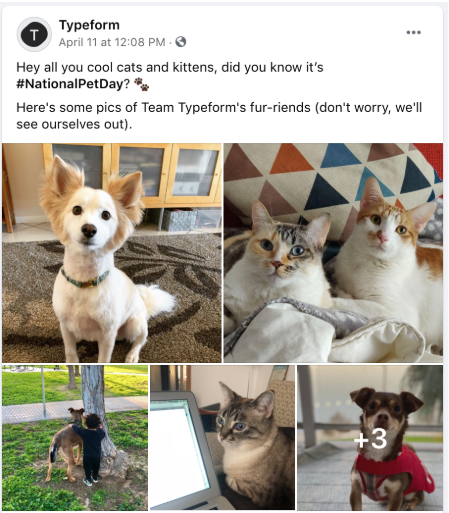 Ask Questions
Think creatively. What kind of questions do you want to ask your audience? The more creative, the more they spark course!
Even questions that are as simple as "what are you reading today" or "What is your favorite book" can boost your engagement by a considerable margin!
You can even ask what content they want to see next through polls to engage with your audience even more! Sky's the limit.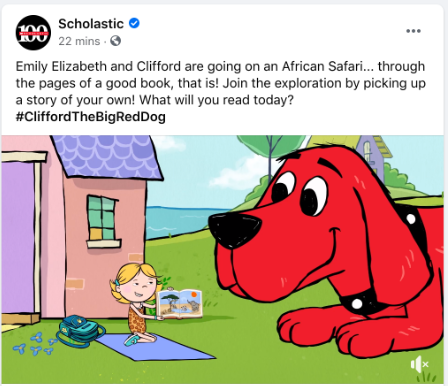 Support and advocate for what's trending
Posting about what people are talking about is the right way of getting more engagement and brand awareness from the public. This makes the Facebook algorithm put you on people's feed more often.
Also, it makes people want to interact more with the post itself. Trending topics such as #stayashome can be used to spread awareness on COVID-19 and make people inclined to donate to charities involving this.
This post is a perfect example: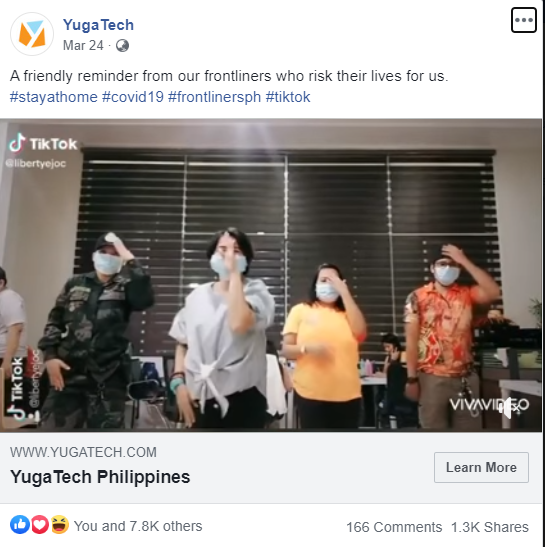 This won't just make you pop up in people's feeds, and it also helps with spreading awareness on relevant topics in a movement.
Discount and sales
Similar to giveaways, this catches the attention of your audience and people scrolling through their feed. A large image saying that your products are 50% off will make people intrigued and possibly even order your products!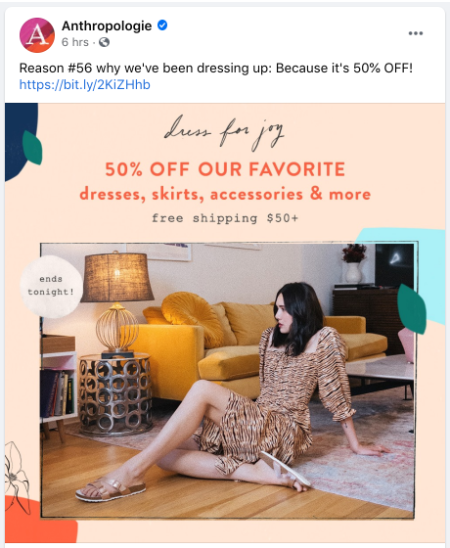 Tell a story
Being personal with your Facebook audience is essential. You don't want to seem like an untouchable brand or someone above everyone else.
You can want to show the public a new way in which you can connect. The story does rely on the brand you're representing, though, so be wary of this.
You can also use a longer, more detailed story of events happening in your life! Anything under the moon which makes you relate and connect with your audience.
Videos
Posting videos on your page is a fantastic way to gain brand awareness and engagement. Videos are more heavily endorsed on Facebook, and there's even an entire section dedicated to watching videos! Putting in trailers, messages, or adverts on the videos can be helpful!
Giving tips
Providing your audience with tips and sharing how your company does things will be sure to make people click. People on Facebook love new information and intel, and by handing way tricks of the trade through your page, you generate more engagement and brand awareness. The more details, the better!
Photos of products
This one is a no-brainer. If you're a business page, posting images of your products is a must. Making your product image look good by using themes or even relating them to events and holidays can boost engagement!
Blog post
Marketing your content and sharing it with the rest of Facebook is a tried and tested way of gaining engagement and brand awareness. It informs your followers about your post and can invite more people to follow and like your brand.
Giveaways galore
The best way to get clicks and engagement is through giveaways and contests. Who passes on the opportunity of getting free stuff? Make sure what you give away is relevant to your audience and product. If you sell pizzas, make the prize a month's worth of pizza.
If you were looking for Social Media Marketing strategies we hope you found some value in this post on 10 Facebook post ideas to build brand awareness and engagement! And if you're a busy or entrepreneur looking for a Social Media Marketing Agency that truly cares about your success, contact us now!